PHILIPPE BOLTON
flageolets & recorders
The Bird flageolet
The bird flageolet is a very small high pitched instrument which was mainly used in the 18th and early 19th centuries for teaching cage birds to sing popular tunes.




an anomymous late 18th or early 19th century bird flageolet (private collection)
The bird flageolet is quoted in Diderot & d'Alembert's Encyclopédie:

Flageolet

There are two sorts of flageolet, one called the bird flageolet, and the other the large flageolet.
Instructions for teaching cage birds to sing tunes can be found in an English method, The Bird Fancyer's Delight containing tunes like this one for different species of birds .

a tune for the wood lark in The Bird Fancyer's Delight

a "large flageolet" and a bird flageolet side by side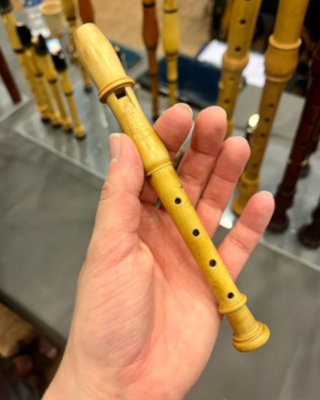 A boxwood copy of this bird flageolet.
This French text published in 1818 explains in detail how to teach canaries to sing tunes:

| | | |
| --- | --- | --- |
| Lorsqu'on veut instruire un serin au flageolet, on le met dans une cage séparée, huit ou quinze jours après qu'il mange seul; si, quinze jours après, il commence à gazouiller, ce qui prouve qu'il est un mâle, on le sépare aussitôt des autres; on le met dans une cage couverte d'une toile forte claire pendant les premiers huit jours, on le place dans une chambre éloignée de tout autre oiseau, de sorte qu'il ne puisse entendre aucun ramage; après quoi on joue d'un petit flageolet dont les tons ne soient pas trop élevés; ces quinze jours écoulés, on change cette toile claire pour y substituer une serge, verte ou rouge, bien épaisse, et en laisse l'oiseau toujours dans cette situation, jusqu'à ce qu'il sache parfaitement son air. Lorsqu'on lui donne de la nourriture qui doit être au moins pour deux jours, il ne faut la lui donner que le soir et non pendant le jour, pour qu'il ne se dissipe pas et qu'il apprenne plus vite ce qu'on lui enseigne. A l'égard des airs, on ne leur apprendra qu'un prélude avec un air choisi seulement, car ils peuvent oublier facilement trop d'airs ou des airs trop longs. à défaut de flageolet, on se sert de serinette pour les instruire: ces oiseaux n'apprennent pas tous aisément: les uns se déclarent au bout de deux mois, et a d'autres il en faut plus de six : cela dépend des différents tempéraments et inclinations de ces oiseaux. | | In order to teach a canary with a flageolet it should be placed in a separate cage a week or two after it has begun to eat on its own. If it begins to chirp, showing that it is a male, it should be separated from the others. Put it in a cage covered with some light coloured cloth for the first week, in a room far from other birds so that it cannot hear any birdsong. Then play tunes that are not too high pitched on a small flageolet. After two weeks the light coloured cloth should be replaced by thick red or green serge, and the bird left in that situation until it knows its tune perfectly. When giving food this should be done for two days at a time, and only in the evening so that the bird does not get distracted and can learn more quickly. As far as tunes are concerned, only one prelude should be taught with one particular tune because too many tunes or those that are too long can easily be forgotten. If no flageolet is available a bird-organ can be used instead. These birds do not all learn easily. Some manage after two months, but for others more than six months can be necessary. This all depends on their temperament and inclination. |
Audot : Traité des oiseaux de chant, des pigeons de volière, du perroquet, du faisan, du cygne et du paon (1818)
In his Encyclopedia Diderot specifies that the bird flageolet has a windcap into which a small sponge can be inserted to absorb humidity. In reality not all bird flageolets have this. Many just have an ordinary beak, like the one in the pictures above.


An 18th century windcapped bird flageolet by Charles Bizey (Cité de la Musique, Paris)