The flageolet in G n° 1025 after an anonymous late eighteenth century instrument can be heard in the album Les Amours d'un Rossignol : Musique pour le flageolet français (Music for the French Flageolet), with Hugo Reyne and La Simphonie du Marais.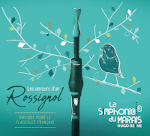 You can listen to an extract here.
The bird flageolet n° 1036 can be heard in the Le Concert des Oiseaux & le Carnaval des Animaux en Péril album. with Sébastien Marq and l'Ensemble La Rêveuse.